Montenegro Boat Charter
Boat charter, Herceg Novi
Discover all of her wild beauty, secret Lagunas, ancient towns full of history and fairytale stories, white sand beaches, crystal clear waters, and hidden caves. Take with you lifetime memories from this breathtaking surroundings. Just simply let us know when and where in Boka Kotorska you would like to be picked up, grab your swimsuit and sunglasses, and let's get this magic started! We offer private customized boat tours, daily rentals, and charters.
PRIVATE DAILY TOURS:
Max capacity of 10 guests.
*pick up time and location are upon customer preference
* All stops are upon customer interest and our recommendations
The entire tour is customizable upon your preferences and we are happy to recommend top-of-the-line spots and experiences.
We will have a pleasure to meet you in the morning at a time and location that best works for you and to get this magic journey started:
3 hrs cruising all over the Boka Kotorska Bay and viewing all historic towns and villages
1 hr lunch stop at a few of recommended spots with amazing domestic food and atmosphere
3 hrs along the outer coast of Bay for swimming and fun in all Lagunas, small islands, and Blue Cave
Will share a goodbye hug at the location of your preference till next time.
Includes:
*English speaking crew
*drinking water available
*coolers to store your drinks and snacks
*freshwater shower available
*snorkeling gear
*CD/USB audio surround system
*Please note that gas consumption charges are not included due to a customizable itinerary.
Welcoming your inquiries by email or phone.
See you soon!
From the clouds to your final destination.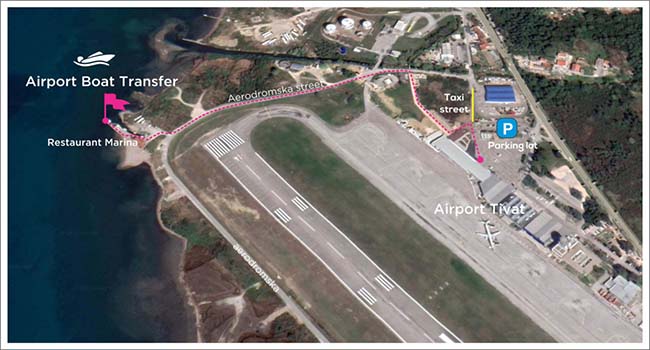 The perfect solution to escape the heat and heavy traffic in the Bay of Boka Kotorska.
Upon arrival at Airport Tivat, continue your travel in speed and style to the final destination with Airport Transfer Service provided by Montenegro Boat Charter for 19 euros per person.
Extend and save your time by the sea and enjoy a smooth ride back to the airport Tivat on your departure day.
Our host will be happy to welcome you in front of the arrival terminal and will provide you with directions to the boat docking point, 4 min walking distance.
Alternately there are prearranged quick, carpool, a taxi ride to the docking point with 5 euros flat fee for up to 5 people.
Excited to see you soon.
Buon Voyage
Contact :