Restaurant Đardin
Restaurant
Naš restoran je smješten kraj same obale. Uživaćete u zvucima talasa koji se prelamaju preko snažnog kamenja dok se opuštate u elegantnim bijelim baštenskim stolicama koje daju savršen kontrast tamno plavom moru i zelenilu koje ih okružuje.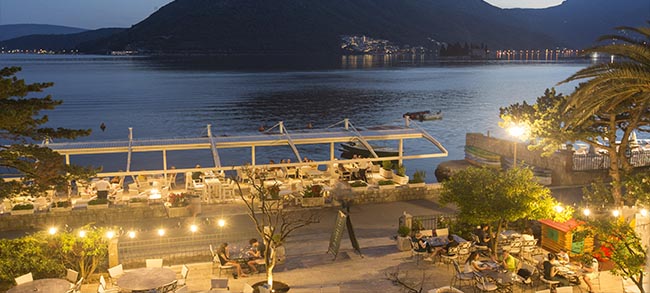 U unutrašnjosti restorana je zadržan tradicionalni dizajn koji u dodiru sa modernim elementima kreira toplu i prijatnu atmosferu. Kako bi upotpunili autentičan ugođaj, naši talentovani kuvari pripremaju svježa jela po kojima je i poznata obala Peraškog zaliva.
Okružena zelenilom, bašta restorana Đardin predstavlja pravu oazu u kojoj možete da okusite jedinstvena jela ovih krajeva, pravljena po tajnim receptima koji su se prenosili sa koljena na koljeno.
U restoranu Đardin filozofija pripreme hrane se zasniva na tradiciji i namirnicama koje su vezane za Perast i baš zbog toga jela koja vam preporučujemo su recepture visokog kvaliteta a neke od njih možete probati samo kod nas. Počastite se sa Đardin brodetom uz nevjerovatne ukuse mora ili probajte Bokeljšku pašticadu spremljenu od svježe govedine sa domaćim njokama, ako ste više ljubitelj mesa. Od srca vam preporučujemo ribu jer nigdje nije ljepsa na obali mora – uvjerite se i sami uz našu zapečenu ribu, riblji pjat ili zapečenu hobotnicu. A za kraj, da vam se duša zasladi, obavezno uzmite parče Peraške torte gde ukus badema obara sa nogu. Prijatno vam bilo!
Nestled by the shore, constantly washed by sea waves, our seaside dining area features elegant white chairs that provide utmost comfort and perfectly juxtapose the blue sea and the greenery the terrace is encircled by. Đardin restaurant interior was kept traditional with a modern twist to provide utmost comfort.
To complete the experience, the kitchen is operated by the most talented chefs who strive to prepare plates of fresh meals typical of Perast bay and Montenegrin culture.
Surrounded by greenery, Đardin garden is a true oasis where you can enjoy our authentic dishes made according to the secret recipes that were passed from one generation to another.
"Đardin" restaurant is famous for its food preparation philosophy which relies on the tradition and local viands. And that was precisely what we wanted – to prepare mouthwatering dishes that you cannot taste anywhere else in the world. Treat yourself with our "Đardin" brudet that offers an unmatched mixture of sea flavors, or if you are a true meat lover, try our Boka beef stew with homemade gnocchi. We also highly recommend our fish, since seafood tastes best when eaten by the shore – try our fried fish, fish plate, or baked octopus. As a cherry on the cake, don't miss out on the chance to grab a bite of Perast cake and get swept away by the amazing almond flavor. Enjoy your meal!