RED TAXI, jedno je od najuspješnijih taksi udruženja u Crnoj Gori. Sa iskusnim menadžmentom i odličnim vozačima RED TAXI izlazi u susret hiljadama građana Podgorice i cijele Crne Gore.
Naše udruženje osnovano je 06.09 2007. godine. Posjedujemo vozni park od  125 najurednijih vozila, a takođe posjedujemo i Centar za edukaciju vozača u sklopu kojeg konstantno radimo na izgradnji profesionalnosti osoblja. Takođe pružamo usluge taksi transporta sa Aerodroma Podgorica i Aerodroma Tivat, do željene destinacije, sa mogućnošću rezervacije vozila.
Brza, efikasna i bezbjedna usluga naše su glavne prednosti, a to dokazujemo odgovorom na preko 80 000 poziva u toku jednog mjeseca.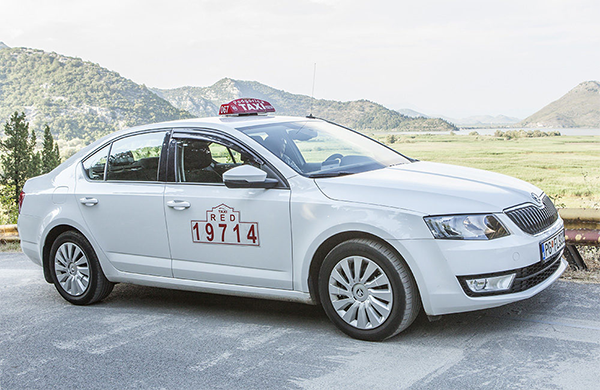 Taksi vozila su dostupna 24h, a vožnju možete naručiti pozivom na broj 19714, kao i slanjem SMS poruke na broj telefona 068/019-714. Ukoliko ste u inostranstvu i želite da Vas taxi vozilo čeka na aerodromu Tivat i Podgorica, rezervaciju možete obaviti putem naše forme za Rezervacije (Klik).
Naš kvalitet i pouzdanost takođe potvrđuje to što sarađujemo sa preko 80 firmi, uključujući i :
Addiko Bank
Australian Airlines
Centre Ville Hotel & Experiences Podgorica Montenegro
EFEL Motors Toyota
HTP Aurel doo
Societe Generale Bank
Unija Poslodavaca Crne Gore
RED TAXI is one of the most successful taxi companies in Montenegro. With experienced management and excellent drivers RED TAXI meets thousands of citizens of Podgorica, and entire Montenegro.
Our association was founded in 06.09 2007. We have a 125 tidiest vehicles, but also we possess the Center for education of drivers within which we are constantly working on building professionalism between staff. Fast, efficient and safe services are our main advantages, and to prove that, we answer to over 80 000 calls in one month. Also, we provide quality airport taxi transportation service from Airport Podgorica, and Airport Tivat to your final destination, with the with the possibility of booking a vehicle.
Taxis are available 24/7, and you can order your ride by calling the number 19714, by sending an SMS message to the phone number +382 68 019 714. If you are abroad and you want your taxi car to wait you at the airport Tivat or Podgorica, the reservation can be made via our form of Reservation (Click).
Our success and reliability also confirms the fact that we are in cooperation with over 80 companies, including:
Addiko Bank
Australian Airlines
Centre Ville Hotel & Experiences Podgorica Montenegro
EFEL Motors Toyota
HTP Aurel doo
Societe Generale Bank
Union of Employers Montenegro