LIGHTLAND FAMILY LIGHT PARK
LightPark, park, avanturisticki park
Otvoren je novi avanturistički privatni park, koji se nalazi iznad Petrovca. Taj magični park naziva se Light Land što u prevodu sa engleskog znaci Zemlja svijetla. U njemu možete da odmorite od gradske buke i provedete dan u tišini i ljepoti prirode. Park je zasnovan na ideji prenošenja na neku drugu planetu. Kao na primjer u zemlju Avatara. Danju je park lijepa šuma ali noću se pretvara u svijet magije i čarobnjaštva. Garantujemo da će se svideti svim uzrastima! Na teritoriji parka ima i mali bar gdje možete popiti razna pića. U prelijepom ambijentu planinske svježine i tišine daleko od grada, uvijek ćete pronaći kutak za odmor i opuštanje.
Šetnja parkom sa svojim voljenima ili sama ne samo da će vam dati puno emocija, već će vam omogućiti i snimanje nezaboravnih fotografija. Čarobno svjetlo pri zalasku sunca ili noću dok svjetla gore pomoći će vam da stvorite svoje iskustvo iz snova.
Upoznajte ovu originalnu ideju bez narušavanja prirode na mjestu gdje se dodiruju more, planine i jezero.
Radno vrijeme je od 16:00 do 24:00 svakog dana.
Cijene ulaznica :
Odrasli 7,00eura / djeca od 7 do 14 – 5,00 eura, a djeca do 7godina mogu besplatno uživati u našem parku.  Porodična ulaznica za 4+ člana porodice je po 5eura po članu porodice.
Ulaznice za koncerte i predstave su skuplje i tada ne važe porodični popusti. Za te cijene najbolje je kontaktirati +382 68 251 507
Large space for bright impressions and a wonderful atmosphere is conducive to a relaxed, cheerful, and sincere rest.
Experience a magical evening of lights at Light Land in Montenegro
This evening adventure gives you the opportunity to spend an evening and has unforgettable memories.
Seven light installations are waiting for you. The recreation park is a real holiday for the whole family and a great place for the most memorable emotions with friends.
In the atmosphere of mountain coolness and silence away from the city, you will always find a corner for rest and relaxation.
A walk in the park with your loved ones or alone will not only give you a lot of emotions but also allow you to take unforgettable photos. Magical light at sunset or at night when the lights are burning will help you create your dreamlike experience.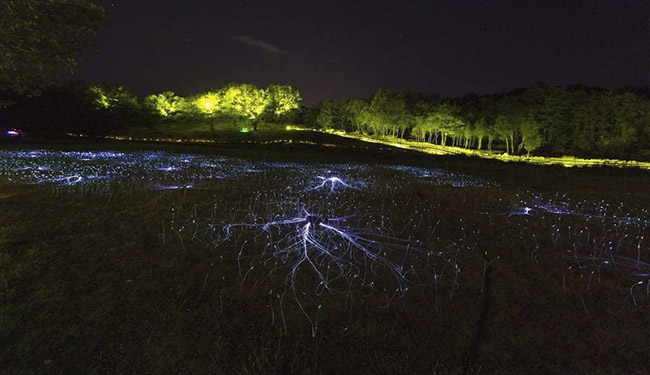 You can visit the Light Land eco-park in Montenegro for 7 euros per person for adults, 5 euros for children under 14 years old, and free of charge for children under 7 years old. If you buy a Family Ticket (three tickets or more), then the price of each ticket is 5 euros.
Tickets for concerts and plays are more expensive and family discounts are not valid then. For those prices, it is best to contact +382 68 251 507
Parking for 20 cars is organized at the entrance to the park.
Kontakt :
Telefon : +38268251507
Facebook : Lightland
Instagram : lightlandfamilypark