Lake bar Karučki krš
Lake bar
Karuč je malo ribarsko naselje na obali Skadarskog jezera. Udaljeno je dvadesetak kilometara od Podgorice. Nekad je Karuč imao karakter privremenog naselja jer su tu ostavljali opremu za ribolov stanovnici okolnih sela. Karučko "oko" – izvorište je bilo poznato po velikom ulovu ribe pa se tu vremenom od privremenog naselja formiralo stalno ribarsko mjesto. Nekad je Karučko oko bilo poznato po bogatom ulovu ukljeve koje se mjerilo na desetine vagona godišnje.
Naša mala mirna luka je smještena u svoj toj ljepoti jezera i njegove prirode. Mjesto koje će vas kupiti za sva vremena – počev od samog ambijenta, pa preko usluge i hrane.
Nudimo vam krstarenje jezerom, restoran sa ribljim i specilitetima domaće kuhinje, odmor u kući na samoj obali Skadarskog jezera ispred kojeg teče rijeka Karuč. Sve u svemu jedan predivni ambijent za odmor bilo da tražite bjekstvo od gradske vreve ili vam treba druženje sa prijateljima u nekom divnom ambjentu. To je ono što vam nudimo. Mjesto koje je posebno i koje morate posjetiti i prepustiti se uživanju i prirodi.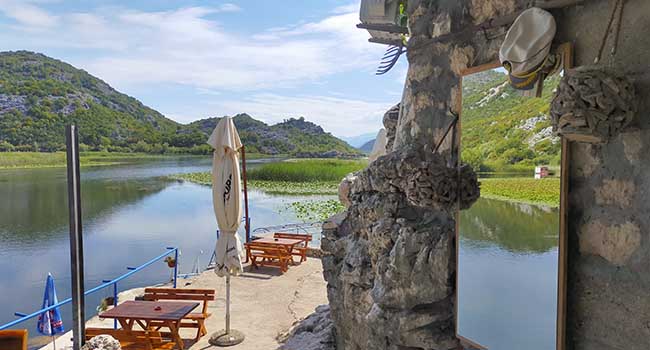 Karuč is a small fishing village on the shores of Skadar Lake. It is about twenty kilometers away from Podgorica. Karuč used to have the character of a temporary settlement because the inhabitants of the surrounding villages left their fishing equipment there. Karučko "eye" – the source was known for its large catch of fish, so over time, a temporary fishing village was formed from a temporary settlement. Karučko oko used to be known for its rich catch of bleaks, which was measured at dozens of wagons a year.
Our small quiet harbor is located in all that beauty of the lake and its nature. A place that will buy you for all time – starting from the ambience, through service and food.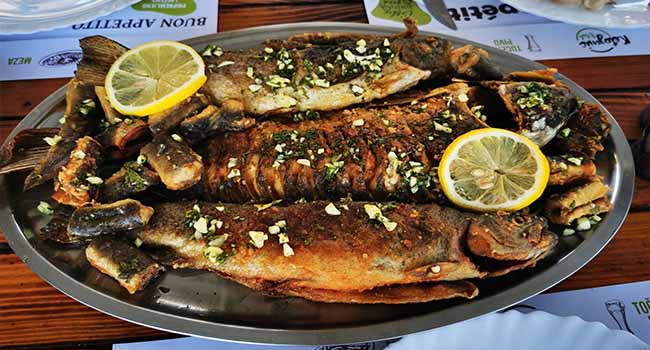 We offer you a cruise on the lake, a restaurant with fish specialties of local cuisine, a holiday in a house on the shores of Skadar Lake in front of which flows the river Karuč. All in all, a wonderful holiday environment, whether you are looking for an escape from the city noise or you need to hang out with friends in a wonderful environment. That is what we offer you. A place that is special and that you must visit and indulge in enjoyment and nature.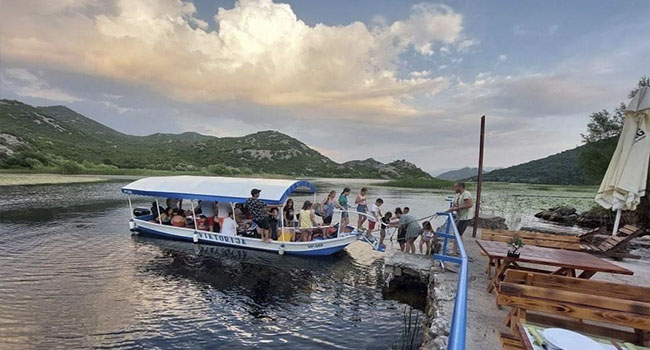 KONTAKT : +382 69 844 123 
Mjesto koje će te zavoljeti i uživati – provedite savršen dan na Skadarskom jezeru.
Nudimo vam :
📌 Kupanje i sunčanje u prirodnom okruženju najljepšeg dijela Skadarskog jezera
📌 Pecanje
📌 Kajak
📌 Pedaline
📌Krstarenje jezerom ( 10,00€ po osobi )
📌 Ručak ( 20,00€ po osobi a on podrazumijeva : čorbu, ribu ili roštilj po želji, salatu, dezert i domaći sok. Za grupne posjete preko 20 ljudi – 15,00€).
📌 Meni nam je jednostavan i uvjek svjež što je i najbitnije :
➖ Riblja čorba
➖ Riba ( krap, šaran, jegulja, pastrmka )
➖ Roštilj
➖ Domaća kobasica, njeguška kobasica
➖Vegetarijanska ponuda
➖ Domaća meza
➖ Domaća baklava
➖ Voćne salate
➖ Domaći sokovi
➖I još mnogo toga…
📌 Posjeta lokalnoj vinariji
📌 U ponudi imamo i apartmane ukoliko želite da prespavate i nastavite uživanje
⭐Jednostavno, na samo 20 minuta od Podgorice je vaše mjesto za odmor na najljepšem dijelu Skadarskog jezera – Karuču.
☎️ Rezervišite svoje mjesto i prepustite se hedonizmu +382 69 844 123