Kaže se da smo daleko najinspirativnije mjesto za boravak u Podgorici. Kako to? Poslovni ljudi, slobodne duše, svjetski putnici, poznate ličnosti, glumci, umjetnici, sportisti i mnogi drugi, otkrili su da mi stvari radimo drugačije, jer prevazilazimo vaše poslovne potrebe, komfor i očekivanja.
Savršeno pozicionirani u kompleksu The Capital Plaza, u srcu glavnog grada Crne Gore, Podgorici, nudimo vam posebnu vrstu gostoprimstva prožetog raskošnom i ležernom elegancijom. Svako iskustvo prati nevjerovatan smještaj, udobnost, te raznolikost restorana i barova.
Očekuju vas uspješni događaji u izvanrednim i multifunkcionalnim prostorima, eklektični restorani i jela, terasa na vrhu, opuštajuća atmosfera u kojoj se osjeća duša hotela, kreativne ideje i najbolji profesionalci koji će garantovati uspjeh vašeg događaja.
Ostvarujemo sve što poželite, i to ozbiljno mislimo. Mašta ne poznaje granice.
GOSTINSKE SOBE
Prozračno, minimalistički i elegantno, a opet toplo, prikladno i udobno, je ono što nudimo. Sa dizajnom koji je prilagođen vama – naše gostinske sobe su prostrane i ispunjene svim ugodnostima koje vam trebaju za prijatan boravak. Iz svake sobe se pruža pogled na živopisni grad i planine Podgorice ili na užurbani atrijum kompleksa The Capital Plaza.
SUPERIOR SOBA – 24 – 32m²
Kompaktne, ali prostrane, naše Superior sobe savršeno ispunjavaju svoju svrhu. Stvorene su za solo putnika ili par koji želi uživati u dodatnim pogodnostima VIP putovanja. Uključuju prostrani krevet, radni sto i fotelju.
PREMIER SOBA – 33 – 42m²
Prostrane, moderne i udobne. Izdašnih proporcija, ekskluzivne i stilizovane. Smještene na ekskluzivnom signature spratu, savršene su za solo putnike, par ili manju porodicu i nude prostrani krevet ili dva odvojena kreveta, radni sto i prostor za opuštanje.
APARTMANI
Eklektični, moderni i upečatljivi – naši apartmani su među najtraženijim smještajnim kapacitetima u Podgorici. Bilo da putujete poslovno, radi uživanja ili raznonode – pronicljivi putnici i oni željni lutanja podjednako cijene prepoznatljiv i zavodljiv dodir CUE hotela.
JUNIOR APARTMAN – 55 – 70m²
Raskošan, prostran, a jednostavan – dizajniran za one koji cijene suptilni luksuz u životu. Nudi odvojenu dnevnu i spavaću sobu, prostorija za dnevni boravak je ispunjena odabirom udobnih fotelja i divana kao i garniturom pored prozora i LCD televizorom. Spavaća soba nudi udoban bračni krevet, prostrani orman, prostor za sjedenje i još jedan TV.
DIPLOMATSKI APARTMAN – 96m²
Prefinjen i sofisticiran. Uz prirodni drveni pod i dekor u neutralnim tonovima boje slonovače i sive, dnevni boravak je podijeljen u dvije prostrane cjeline. Podijeljene centralnim stolom sa LCD TV-om, jedna strana sadrži veliki trpezarijski sto za kojim se može smjestiti do osam vaših gostiju, dok je druga strana namještena sofom i udobnim prostorom za odmor.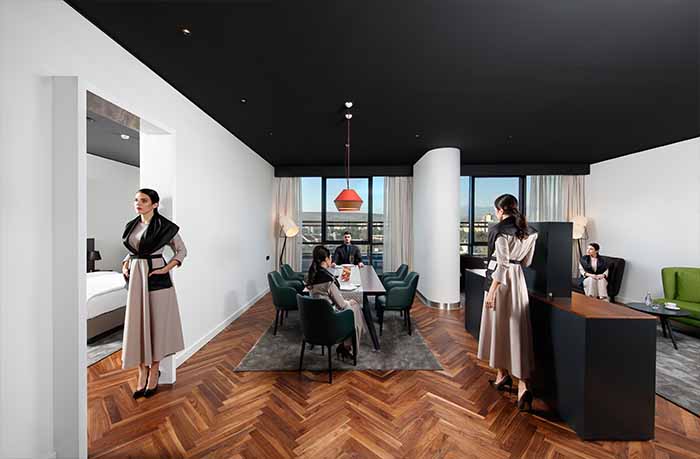 PENTHOUSE APARTMAN – 294m²
Šta se dogodi u u Penthouse-u, ostaje u Penthouse-u. Ne uvijek, ali ovo je definitivno mjesto u Podgorici koje morate doživjeti. Ovaj apartman je vrijedan čak i kraljevske porodice. Ako ikada poželite organizovati vrhunski događaj, nesumnjivo će vam obezbijediti uspješnu priču koju ćete pamtiti zauvijek. Glamurozan do krajnjih granica, najfiniji namještaj i materijali, koncertni klavir u centralnom dijelu, multifunkcionalni prostor sa direktnim pristupom dragulju u kruni apartmana – prostranoj terasi sa nevjerovatnim pogledom na Podgoricu. Noću se pretvara u magično mjesto zaslijepljeno zvijezdama.
Naš Penthouse je prvi izbor za nezaboravna vjenčanja, kultna fotografisanja i snimanja sa modelima, snimanje reklama, sastanke odbora direktora, promocije proizvoda ili samo organizovanje zabavnih događaja. Ovdje vam šampanjca nikad neće ponestati!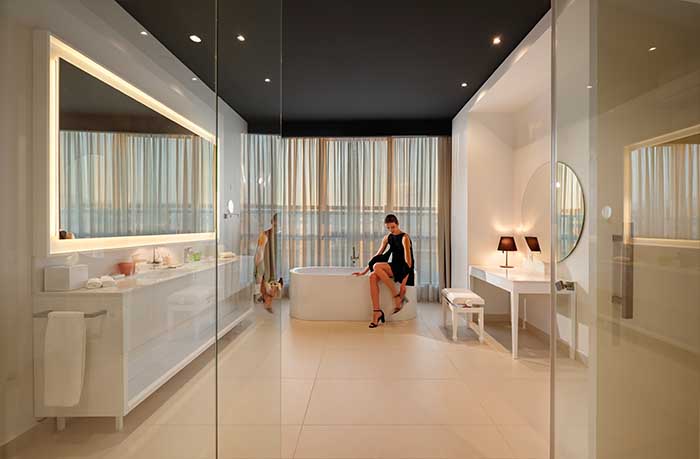 SASTANCI, DRUŽENJA I SLAVLJA
Od stilizovanih sala za sastanke do terase pod zvijezdama, naši prostori za sastanke su istovremeno zabavni i jednostavni, trendi i formalni, komforni i spartanski, skladni i haotični, sa stilom i uobičajeni, intimni i prostrani. Baš kao kameleon, naš fleksibilan tim i šest sala za sastanke u potpunosti se prilagođavaju vašim specifičnim potrebama usmjerenim ka uspjehu.
Želite li da pretjerate u svemu? Stvorite osjećaj izobilja? Blistav, otmjen i upečatljiv događaj koji će se pamtiti decenijama? Mi možemo bolje.
A možda vam ne trebaju elegantne kožne fotelje? Ne želite dnevnu svjetlost? Ne treba vam brzi Wi-Fi ili potpuno integrisani sistem za osvjetljenje i zvuk? Nećete TV sa širokim ekranom? Ne zanimaju vas priključci za konferencijske pozive? Uklonićemo ih i smisliti nešto originalno kako bi vaš "pećinski"   događaj protekao veoma uspješno!
– U našoj Grand sali sa prozorima od poda do plafona koji obiluju dnevnom svjetlošću, uspješno smo organizovali brojne kongrese, forume, okrugle stolove, sajmove, raskošna vjenčanja, privatne zabave, svečane večere, team building aktivnosti i mnoge druge važne događaje i proslave.
– Naše dvije konferencijske sale poslužile su klijentima da se predstave u raznim postavkama – tipičnim i atipičnim prezentacijama, formalnim i neformalnim okupljanjima, konferencijama za štampu, predavanjima, promocijama i lansiranju proizvoda.
– Neki klijenti koriste tri male sale za sastanke pojedinačno ili u kombinaciji radi organizacije sastanka i ručka odbora direktora, konferencijskih poziva, ponekad i kastinga za filmove ili foto modele.
– Kao neformalan multifunkcionalni prostor između konferencijskih i sala za sastanke, naša galerija se koristi za zaslužene pauze uz čaj i kafu ili švedski sto, kao i za umjetničke izložbe, modne revije, koktel prijeme i događaje sa stilom.
RESTORANI
THE LIVING ROOM – prizemlje
"Mjesto u Podgorici koje treba vidjeti i biti viđen". Zaista, tako većina naših gostiju opisuje The Living Room, srčani puls hotela CUE Podgorica i vodeće mjesto dobrog provoda i hrane u gradu.
Uživajte u bogatom doručku ili zasluženoj pauzi za kafu na terasi, ukusnom poslovnom ručku u parlouru ili u našim poznatim koktelima tokom večernjih koncerata.
Kad se nađete na mjestu sa eklektičnim namještajem i starinskim lampama, upotpunjenim lokalnim memorabilijama, odmah će vas obuzeti sjajan ambijent i dobre vibracije. Tu ćete upoznati urbane, lijepe, vedre i energične ljude. Nezaboravno iskustvo, zar ne?
THE SIGNATURE LOUNGE – peti sprat
Privatan i ekskluzivan prostor za naše VIP goste koji borave u apartmanima i signature sobama. Jedinstvena interakcija minimalističkog, ali elegantnog stila, signature dizajna i nevjerojatnog pogleda, pruža prostran i prozračan osjećaj. Savršen za jutarnju kafu sa pogledom na očaravajući horizont Podgorice, uživaćete u ukusnim kanapeima dok radite na laptopu ili ste na važnom sastanku u susjednom privatnom prostoru.
THE DINING ROOM – prvi sprat
U našem restoranu, koji odiše ležernom prefinjenošću i nudi istinski osobeno iskustvo ručavanja, možete doživjeti savršen svadbeni doručak, posebnu večernju zabavu ili ekskluzivno predstavljanje proizvoda, švedski sto ili a la carte. Svijetao je i prozračan sa prozorima od poda do plafona, nudi divan pogled na užurbani atrijum u prizemlju.
RAZONODA
CUE Podgorica je dio kompleksa The Capital Plaza, glavnog administrativnog i poslovnog centra u Podgorici. Pored nekoliko poznatih franšiza restorana i barova, modnih brendova, u kompleksu se nalazi i najbolja teretana u gradu, salon ljepote i wellness & spa centar – luksuzno utočište sa bazenom, saunom, turskim kupatilom, slanom pećinom, senzacijskim tušem, tepidarijumom, Kneipp klupom i raznim terapijama za podmlađivanje.
CUE Podgorica vas poziva da otkrijete užitke ove skrivene destinacije i uzbudljive veze među putnicima koji dolaze iz različitih kultura. Ovo okruženje vas podstiče da se otvorite, isključite iz virtuelnog i zaronite u stvarnost.
It is said that we are by far the most inspiring place to stay in Podgorica. How come? Businesspeople, free spirits, world travellers, famous people, actors, artists, sports teams and many others have found out that we do things differently. We move beyond your business needs, comforts and expectations.
Perfectly positioned at The Capital Plaza complex in the heart of Montenegro's capital city Podgorica, we offer a special kind of hospitality imbued with the splendidness of casual elegance. Every experience is infused with amazing accommodation, comfort and eclectic restaurants and bars.
The successful events in the outstanding and multifunctional spaces, eclectic restaurants and cuisine, skylit rooftop, cool environment to wind down and feel the breath of the hotel, out of the box ideas and best professionals to guarantee the biggest success of your happenings await you!
We deliver whatever you desire, and we mean it. No limit to the imagination.
Unplug & play!
GUEST ROOMS
Bright, minimalistic and chic yet homely, convenient and comfortable is what we offer. Designed with you in mind – our guest rooms provide a generous space stocked full of all the amenities you need to have a great stay. Each room commands a view of either Podgorica's picturesque city and mountain-scape, or of the bustling atrium of The Capital Plaza complex.
SUPERIOR ROOM – 24 – 32m²
Compact yet roomy, our superior rooms do the job perfectly. These rooms are perfect for the solo traveller, or a couple looking to enjoy the added benefits of VIP travel. They include a kind sized bed, a desk and an armchair.
PREMIER ROOM – 33 – 42m²
Spacious, modern and comfortable. Generously proportioned, stylish and exclusive. Located on the exclusive signature floor, they are perfect for the solo traveller, a couple or a small family and offer a king-sized bed or two single ones, a desk and sofa area.
SUITES
Eclectic, modern and distinguished – our suites represent some of Podgorica's most sought-after accommodation. Whether you are travelling for business, pleasure or leisure – discerning travellers and wanderlusts alike appreciate that signature and seductive touch of CUE Hotel.
JUNIOR SUITE – 55-70m²
Sumptuous, spacious and simplistic – designed for those who appreciate the subtle luxuries in life. Offering a separate living room and bedroom, the living area is stocked with a selection of comfortable seats and sofa's as well as a window-side table and chair set and a wide-screen LCD. The bedroom offers a comfortable double bed, walk in wardrobes, a seating area and another TV.
DIPLOMATIC SUITE – 96m²
Refined and sophisticated. Decked with pristine wooden flooring and decorated in neutral tones of ivory and grey, the lounge area is split into two spacious parts. Divided by a centre table with a wide-screen LCD TV – one side contains a large dining table that can accommodate up to eight of your guests and the other part is decorated with a sofa and comfortable seating area.
PENTHOUSE SUITE – 294m²
What happens in The Penthouse, stays in The Penthouse. Not always, but this is definitely the place to be in Podgorica. This suite is worthy even of a royalty. If you ever have a top special event, this penthouse will undoubtedly bring you a success story to remember forever. Ultra-glamour, finest furniture and materials, a grand piano amidst, multifunctional space with direct access to the jewel in the crown of this suite – an expansive terrace with a 360º most incredible view of Podgorica. By night, it transforms into a magical venue lit by the stars.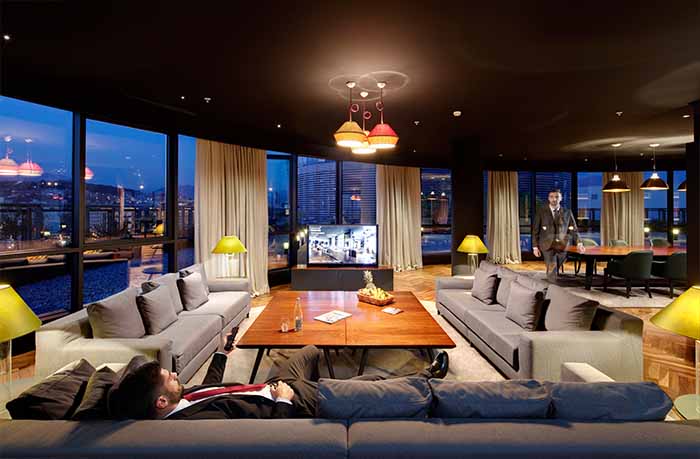 Our Penthouse is the first choice for unforgettable weddings, iconic photo shootings and filming with models, the advertisement recording, boards of directors' meetings, product promotions or just party around events. Here you can never run out of champagne!
MEET, MINGLE & CELEBRATE
From stylish meeting rooms to sky lit rooftops, our meeting spaces are amusing and boring, trendy and formal, comfortable and spartan, harmonic and chaotic, stylish and strict, intimate and huge. Just as a chameleon, our six meeting spaces and our flexible team completely adapt to your specific needs for a success driven orientation.
You want to create a feeling of overabundance? Too much of everything? A glittering, fancy and iconic event to be remembered for decades? We can do better.
Or, you don´t need plush leather chairs? You do not need natural daylight? No need for high-speed Wi-Fi or fully integrated light & sound system? No wide-screen TV? Or multi socket plugs with phones for conference calling capabilities? We will take them away and come up with something original to make your "cave dwelling" convention a great success!
In our Grand Room that features floor to ceiling windows providing ample natural daylight, we have celebrated huge successes like conventions, forums, round tables, fairs, luxury weddings, private parties, gala dinners, team building activities and many other important events and celebrations.
In our two Conference rooms our clients have done set-ups in a variety of styles – typical and untypical presentations, formal and unformal gatherings, press conferences, lectures, promotions and product launches.
Some clients use our three small meeting rooms individually or combined to provide a larger room to do a board of directors meeting and lunch, conference calls or even castings for a movie or fashion model booking.
As an informal multifunctional space between the meeting and conference rooms, our Gallery is used as a breakout area for much deserved tea and coffee breaks or buffet lunches, as well as for the art exhibitions, fashion shows, cocktail receptions and elegant gatherings.
DINING EXPERIENCES
THE LIVING ROOM – ground floor
"The place to see and be seen in Podgorica". Indeed, that is how the most of our guests describe The Living Room, the beating heart of CUE Podgorica and the leading lounge and dining hub in the city.
You can enter to enjoy a winning breakfast or well-deserved coffee break on the terrace, bright flavours of a business lunch in the parlour or our famous cocktails during a live concert at night.
Welcomed in a place of eclectic furnishings and vintages lamps, complimented by local memorabilia, you will always get great ambience and vibes, and always meet the coolest, pretty, vibrant and playful people.  That is truly a memorable experience, don't you think?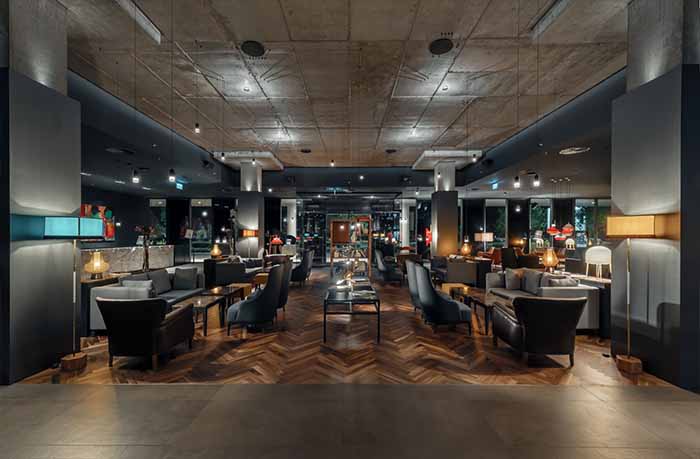 THE SIGNATURE LOUNGE – fifth floor
Private exclusive venue for our VIP guests staying in the suites and signature rooms. A unique interplay of minimalist yet chic style, signature design and amazing view brings an open, airy feel. Perfect for a morning coffee against the mesmerizing backdrop of Podgorica's skyline, enjoying delicious snacks while working on your laptop, having favourite drinks with your special friends or an important meeting in the adjacent privée.
THE DINING ROOM – first floor
In our dining room that oozes casual sophistication but offers a truly distinctive dining experience you can have your perfect wedding breakfast, a special dinner party or an exclusive product launch, a buffet or a la carte setup. It is bright and airy with floor to ceiling windows offering an incredible view onto the bustling atrium below.
LEISURE
CUE Podgorica is located at The Capital Plaza Complex which is the main administrative and business centre for Podgorica. In addition to a collection of internationally renowned restaurants and bars, fashionable shopping brands, the complex is home to a best gym in the city, beauty salon and wellness & spa centre – a luxury sanctuary complete with a swimming pool, steam and sauna rooms, a hammam, salt cave, sensation shower, a tepidarium, a Kneipp bench and a menu of rejuvenating therapies.
CUE Podgorica encourages you to discover this destination's beneath-the-radar delights and sparking connections between travellers from different cultures. This is a stimulating environment that invites you to open, break from the virtual and dive into the real.
Contact :
Phone : +382 20 684 000
E-mail :  [email protected]