Apart hotel MS Katunjanin
Apartmans, Hotel, Aparthotel, apartmani
Dobrodošli u Herceg Novi !
Dobrodošli u apart hotel MS KATUNJANIN !
Velika nam je čast što ste izabrali da Vaš boravak u Herceg Novom provedete u našim apartmanima.
Učinićemo sve da opravdamo Vaše povjerenje, pružimo visok nivo usluge i učinimo Vaš boravak što ugodnijim kako bi naše apartmane napustili sa pozitivnom energijom, lijepim uspomenama i željom da nam se vratite ponovo.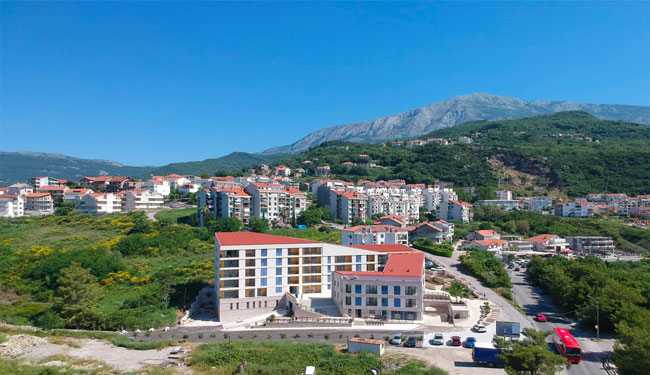 Apart hotel MS KATUNJANIN je smjesten u srcu Igala, udaljen samo 200m od plaže, tik uz magistralu, nadomak Instituta Dr. Simo Milošević i sportskog centra Igalo kao i fudbalskog stadiona, što ga čini pogodnim za izdavanje u smislu banjskog i sportskog turizma.
Apartmani su podjeljeni u tri bloka, u kojima se nalaze jednosobni , dvosobni i trosobni apartmani. Enterijer predstavlja spoj prirodnog ambijenta, najkvalitetnijih materijala i modernog stila, koji će uljepšati boravak u objektu. Svaka smještajna jedinica posjeduje WiFi, Plazma Smart TV, kuhinju, klima uređaj, jumbo krevet…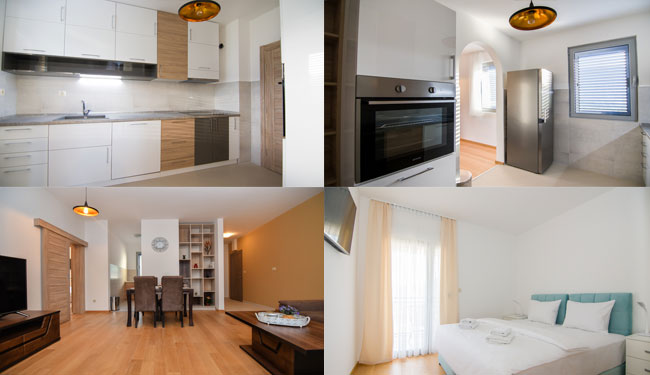 Pored povoljnih klimatskih uslova, geografska pozicija naših apartmana je idealna upravo iz razloga što se možemo pohvaliti da su nam dva aerodroma (Tivat i Dubrovnik) na samo pola sata vožnje. Upravo iz tog razloga ukoliko Vam je potrebno, organizujemo i transfere do istih.
Takođe, naše ljubazno i stručno edukovano osoblje Vam je na raspolaganju tokom Vašeg boravka za sve informacije i organizovanje dnevnih izleta do najljepših destinacija u Crnoj Gori ili zemljama okruženja.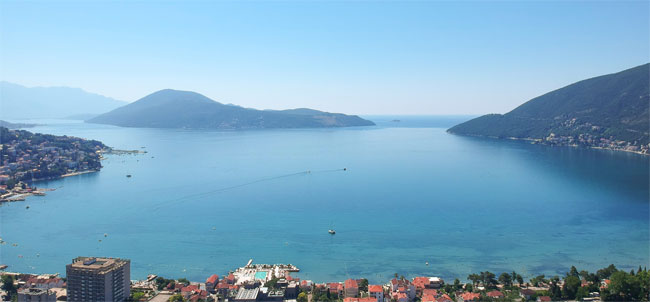 Ukoliko imate bilo kakvu želju , predlog ili savjet kako da budemo još bolji domaćini, biće nam zadovoljstvo da čujemo i uvažimo Vaše mišljenje.
Želimo Vam prijatan boravaku apartmanima MS Katunjanin.
Welcome to Herceg Novi!
Welcome to the aparthotel MS KATUNJANIN!
It is a great honor for us that you have chosen to spend your stay in Herceg Novi in ​​our apartments.
We will do everything to justify your trust, provide you with a high level of service and make your stay as pleasant as possible so that our apartments will leave with positive energy, beautiful memories and the desire to return to us again.
Apart Hotel MS KATUNJANIN is located in the heart of Igalo, just 200m from the beach, just next to the main road, near the Dr. Simo Milošević and the Igalo sports center as well as the football stadium, making it suitable for spa and sports tourism.
The apartments are divided into three blocks, consisting of one-bedroom, two-bedroom and three-bedroom apartments. The interior is a combination of a natural environment, the highest quality materials and the modern style that will make your stay in the building easier. Each accommodation unit has WiFi, Plasma Smart TV, kitchen, air conditioning, jumbo bed …
Apart from favorable climatic conditions, the geographical position of our apartments is ideal because we can boast that the two airports (Tivat and Dubrovnik) are only half an hour drive away. That is why, if you need it, we also organize transfers to the same.
Also, our kindly and professionally trained staff is at your disposal during your stay for all information and organization of daily excursions to the most beautiful destinations in Montenegro or in the surrounding countries.
If you have any wish, suggestion or advice on how to be even better hosts, it will be a pleasure for us to hear and appreciate your opinion.
We wish you a pleasant stay in apartments Katunjanin.
Adress : Igalo, Jadranska magistrala
e-mail: [email protected]
Mobile : +382 67 102 502