Bliži nam se sezona praznika i baš sada je idealno vrijeme da dobro promislite gdje ćete ih provesti sa svojim najmilijima. Upravo to je idealan period da pobjegnete koji dan na more i upoznate se sa zimskim čarima primorskog načina života. Šum samo jednog morskog talasa biće vam dovoljan da odvuče svakodnevne probleme daleko na pučinu, kako biste se vi prepustili uživanju. Ukoliko se odlučite za ovakav bijeg od stvarnosti, Portonovi biće savršena adresa za vas, a naš tim postaraće se da stvorite uspomene koje ćete pamtiti cijeli život.
Od 3. decembra do 8. januara, Portonovi će postati pravo naselje iz bajke – mjesto posebne magije u kome će zimske noći obasjati svjetla svečanih ukrasa i jedinstvene igre svjetlosti i muzike. Raznovrsni događaji za sve generacije, praznični bazar sa najboljom ponudom delikatesa i kreativne radionice za najmlađe, u kombinaciji sa laganim morskim povjetarcem, napraviće idiličnu atmosferu, savršenu za druženje sa najmilijim osobama. Očekuju nas i koncerti regionalih zvijezda, domaćih bendova i DJ-eva, a nakon programa, zabava će se nastaviti u našim lokalima, uz uživanje u specijalitetima različitih internacionalnih kuhinja, aromama iz najrazličitijih krajeva svijeta, egzotičnim koktelima, šampanjcu i dobroj muzici.
Jedan od događaja koji sigurno ne smije propustiti je Magični šou – light, laser & music show, dramatična instalacija koja će tokom pet dana, od 14. do 18. decembra osvijetliti noćno nebo iznad rizorta.
Bilo kao gost u nekoj od rezidencija ili kao posjetilac, Portonovi svečanosti biće savršene za završetak ove godine i početak nove na najbolji mogući način.
Za više informacija o događajima kontaktirajte [email protected], a za specijalne ponude i rezervacije smještaja kontaktirajte [email protected] ili +382 67 177 444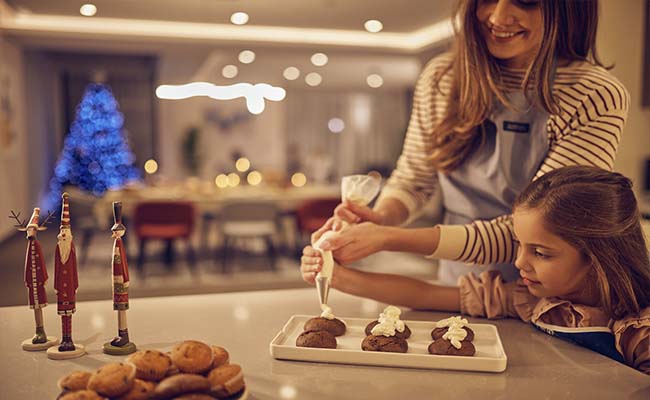 Portonovi – A Fairy-Tale Village for an Ideal End of the Year
The festive season is approaching, and it is an ideal opportunity to ponder where you will spend it with your loved ones. It is the perfect period to escape to the sea for a couple of days and get to know the winter magic of the Mediterranean lifestyle. Hearing the sound of only one wave will be enough for your everyday problems to be taken out to the open sea so that you can indulge yourself. If you choose such an escape from reality, Portonovi will be the perfect address where you will create memories to be remembered for the rest of your life.
From December 3rd to January 8th, Portonovi will be a real-life fairytale-like village – a place of special magic, where festive ornaments and unique play of light and music will light up winter nights. Various events for all generations, Festive Market with the best delicacy offer, and creative workshops for the youngest, combined with the light sea breeze will make an idyllic atmosphere – perfect for spending time with your loved ones. There will also be concerts – regional stars, local bands, and DJs will perform. And after the program, the entertainment will continue in our bars -where you will enjoy the specialties from a selection of international cuisines, aromas from various parts of the world, exotic cocktails, champagne, and good music.
One of the events you must not miss is the Magic Show – Light, Laser & Music Show, a dramatic installation that will light up the night sky above the resort for five days, from December 14th to December 18th.
Both for guests in one of the residencies and visitors, the Portonovi festivities will be the perfect ending and the best possible beginning of the new year.
For more information about events, please contact [email protected], and for special offers and to book accommodation – [email protected] or +382 67 177 444.