Približavanjem ljetnje sezone, planiranje i organizacija dešavanja u Portonovom je
uveliko u toku. Od koncerata i izložbi, preko modnih revija do karnevala i sportskih
događaja, posjetioci i rezidenti će imati više nego dinamičnu ponudu u kojoj će moći da
uživaju u mjesecima koji slijede.
Koncertom Dejan Petrović "Big Band"-a krajem aprila, u organizaciji Opštine Herceg
Novi, zvanično smo i otvorili ovogodišnju sezonu događaja na otvorenom. Entuzijazam
sa te večeri nastojimo da prenesemo u sve događaje koji nas čekaju, a koji obećavaju
nezaboravnu sezonu.
Jedna od prvih novosti u predstojećem programu je novootvoreni jedriličarski klub
Portonovi Yacht Club koji će privući ljubitelje jedrenja i morskih aktivnosti. Klub
priprema niz događaja i aktivnosti koji će oduševiti jedriličare i ljubitelje jedrenja, dok
će članovi kluba uživati u posebnim pogodnostima.
Osim događaja otvaranja, Portonovi Yacht Club će ovog ljeta organizovati dvije regate,
popularnu EST105 internacionalu regatu Bari – Herceg Novi, koja će biti održana od
26-28 maja, kao i, već dobro poznatu, III Portonovi regatu "Bokeška ostrva", koja će se
održati od 10-12. juna.
"Portonovi Yacht Club će omogućiti onima koji se još nisu oprobali u jedrenju, a to bi
željeli, da pohađaju kurseve jedrenja sa iskusnim jedriličarima", istakao je Rashad Aliyev,
izvršni direktor kompanije Azmont Investments. On je dodao: "Portonovi se trudi da
ponudi pregršt razloga zbog kojih bi ljudi željeli da dođu i zadrže se određeni period. Svi
oni koji su željni avanture i uzbuđenja, predivnih pejzaža, vrhunskih spa centara i
opuštanja, kao i izleta po Crnoj Gori i kulturnih dešavanja pored mora će ovog ljeta uživati
u Portonovom. Osim toga, Tapasake Portonovi je najavio niz gostovanja svjetski poznatih
imena iz svijeta muzike koja nas čekaju ovog ljeta."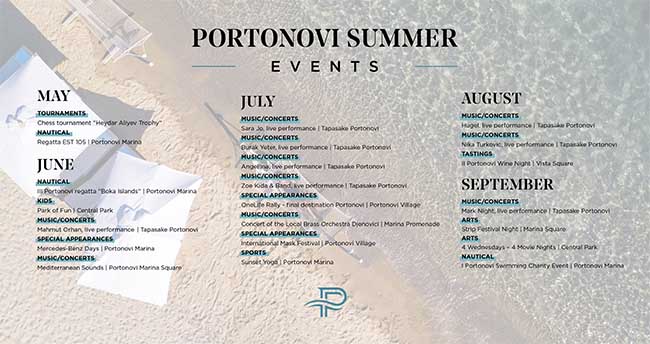 Druga po redu Portonovi Wine Night, Mediterranean Sounds, Internacionalni
Karneval i Sunset Yoga samo su neki od događaja koji nas očekuju u Portonovom tokom
predstojećih mjeseci.
Svi događaji će blagovremeno biti najavljeni na zvaničnim Portonovi profilima na
društvenim mrežama, kao i u lokalnim i regionalnim medijima.
Bilo da želite da imate dom na obali Mediterna ili da iskusite čari luksuznog života na
Jadranu boraveći nekoliko dana u nekom od apartmana ili vila, Portonovi nudi sve što je
potrebno za nezaboravno iskustvo življenja pored mora. Tokom čitave godine, posjetioci
iz čitavog svijeta uživaju u jedinstvenoj kombinaciji luksuza, vrhunskih nekretnina i
dizajna i impozantne, netaknute prirode Bokokotorskog zaliva.
Razni kulturno-umjetnički događaji tokom godine upotpunjavaju ugođaj i jedinstveno
iskustvo života u Portonovom.
Određeni događaji mogu zahtijevati rezervacije. Za informacije kontaktirajte [email protected]
Za posebne ponude i rezervacije smještaja kontaktirajte [email protected] ili
pozovite +382 31 353 600

Portonovi – The Place to Be This Summer
With the summer season approaching rapidly, Portonovi is getting ready to host a variety
of events, from music concerts, art exhibitions, carnival, fashion, and sports events during
the months that follow.
As the season was symbolically announced with a successful concert of Dejan Petrović
Big Band organized together with the Municipality of Herceg Novi, Portonovi has become
the place to be in the shoulder season.
One of the first novelties is the newly established Portonovi Yacht Club which will
attract yacht enthusiasts and welcome all those eager to experience sea adventures.
Sailors, and all sailing enthusiasts, will be able to enjoy various events and gatherings that
the club is preparing, while club members, be it Standard or Premium ones, will be able
to enjoy special benefits.
This summer, along with the opening, Portonovi Yacht Club will be the host of two
regattas, the popular EST105 international regatta Bari – Herceg Novi from May 26-
28, and the already well-known, Third Portonovi regatta "The Boka Bay Islands,"
from June 10-12.
"Those who admire sailing and would like to give themselves a chance to try it out will be
able to do so, as Portonovi Yacht Club will organize sailing classes with experienced
sailors," pointed out Rashad Aliyev, the CEO of Azmont Investments. He added:
''Portonovi aims to create different reasons for guests to enjoy a short or long stay at
Portonovi. Those in search of adventure and excitement, scenic views, wellness and
relaxation, guided journeys around Montenegro, and onsite events will certainly enjoy
summer at Portonovi. In addition, our Tapasake Portonovi will host series of events
welcoming artists from around the world.''
The Second Portonovi Wine Night, Mediterranean Sounds in Portonovi,
International Mask Festival, and Sunset Yoga are just some of the many events that
will take place at Portonovi in the upcoming months.
Upcoming events and music performances will be announced on Portonovi social media
profiles and local and regional media channels.
Whether you choose Portonovi as your home on the coast or you wish to experience life
in the village with your choice of luxury apartments and villas for holiday rentals, there
is not a single thing even the most demanding guests cannot acquire. All year round,
travelers from all around the globe can enjoy this remarkable place for a relaxing getaway
on the Adriatic Coast, set between the sea and beautifully manicured gardens.
Throughout the year, various events invite guests to visit Portonovi and Montenegro and
encounter a once-in-a-lifetime experience.
Certain events may require reservations. For event inquiries, please email [email protected]
For special offers and to book your stay, please email [email protected] or call +382 31 353 600